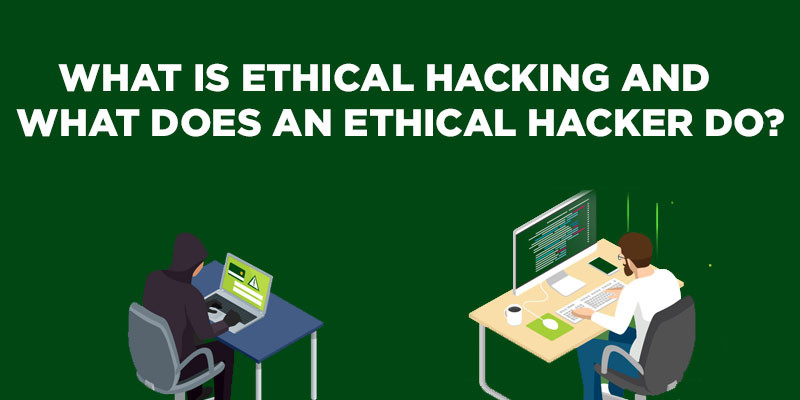 What is ethical hacking and what does an ethical hacker do?
Ethical hacking is one of the most demanding IT careers because companies are apprehensive about storing and protecting confidential data from cyber attacks. Due to this, the demand for ethical hackers increases in IT and NON- IT sectors like finance, government agencies, etc.
If you want to become an ethical hacker, you can join a Cyber Security Course in Chennai, which will help you understand how to be an ethical hacker, technical hacking skills, network scanning and system hacking methodology.
In this blog, we shall discuss how is hacking done, introduction of ethical hacking, importance of ethical hacking and cyber security and is ethical hacking a good career.
How to be an ethical hacker and how is hacking done
Ethical hackers are also referred to as white hat hackers. White hats are professionals who breach the system, network, resources or security to gather data, but they have authority. Many top companies hire ethical hackers to find the potential weakness that malevolent hackers could exploit.
The primary purpose of ethical hacking and cyber security is to determine the security issue and vulnerabilities in the intended system, infrastructure and system. In this process, the hackers find the possible vulnerabilities and determine whether unauthorized access or other malicious activities are possible.
What is ethical hacking- A brief introduction of ethical hacking
Ethical hacking is the process of technical hacking in which hackers are in the infosec to find the malicious attack that threatens business and operational data.
Ethical hackers uncover the security issue in the system configuration and find known and unknown hardware or software vulnerabilities, the operational shortcomings of the process or the technical defences.
Distributed denial-of-service attacks represent a potential security risk from malicious hacking because multiple compromised computers are used to attack a single target, which could be any resource on the computing network.
The organization permits an ethical hacker to discern vulnerabilities and provide the authority to penetrate its computing infrastructure. Many methods and techniques used by black hat hackers and ethical hackers are similar while testing IT security. On the other hand, ethical hackers collect threat intellect to assist organizations in improving network security by implementing more robust infosec policies, procedures, and technologies.
Any business that operates an online service or has a network connected to the internet should think about having ethical hackers who can perform penetration testing (pen testing) on its operating environment.
To have a profound understanding of ethical hacking techniques, you can join Ethical Hacking Online Course and learn from beginning to advanced level of hacking techniques, such as the introduction of ethical hacking to Information Security Audit and audit Reporting.
What do ethical hackers do, and how is hacking done?
Ethical hackers can aid organizations in several ways, including the following:
Finding vulnerabilities
Ethical hackers help the organization find the exploitation of the IT security configuration. However, their primary role is updating the software and strengthening security weaknesses.
After determining the vulnerabilities in the organization's systems, they immediately report it to the company administrator about the exploitation and lack of password encryption, application insecurity, or a system with unpatched software.
After reporting, with this collected data, they derive a better solution to solve the critical security issue. However, they can take countermeasures to enhance their security posture to prevent cyber attacks.
Demonstrating methods used by cybercriminals
These demonstrations expose executives to the hacking techniques that bad actors might use to compromise their systems and cause havoc for their businesses. Businesses that are knowledgeable about the strategies attackers use to access their systems are better able to thwart intrusions.
Importance of technical hacking or ethical hacking
As hacking techniques and methodologies keep innovating, cyber attack taking the route to breach the system is more effective than before.
Moreover, it damages and destroys the business, especially the small ones with no strong network or system configuration. It indicates that most of the companies were unaware of the security breaches.
So, ethical hackers update themselves according to the organization's needs and understand how threat actors operate. Further, they have understood how illegal hackers obtain new information and techniques to attack systems. Working with ethical hackers allows security professionals to respond better to the constantly evolving nature of digital threats, enabling them to better prepare for upcoming attacks.
Enrol in Ethical Hacking Course in Chennai and learn the hacking techniques, tools, methodology, OWASP Top 10 Vulnerability, Social Engineering - Techniques and Cloud Computing Techniques.
Ethical hacking vs. penetration testing
Pen testers and ethical hackers are interchangeable terms used to indicate that both do the same process in finding the weaknesses in the network or system. But some of the methods or techniques they utilize differ from their role. Many companies hire ethical hackers and pen testers to strengthen the IT infrastructure or security.
The main objective of the ethical hacker is to test the IT system and to determine the security flaw, ransomware or emerging computer viruses.
Pen tests are frequently a part of their work, but they manage overall IT security assessment. The pen tester method and techniques slightly resemble the ethical hacker, but they often follow a set schedule when doing their jobs. Pen testing also has a narrower focus on particular network components as opposed to ongoing general security.
For example, the person conducting the pen test might only have temporary access to the tested systems.
Ethical hacking techniques
As ethical hackers, malicious hackers utilize the same techniques and methodology for breaching the system or network. But the only difference is ethical hackers will have authority.
They simulate scenarios that could endanger business and operational data using a form of reverse engineering. The various methods and resources are a part of a comprehensive vulnerability analysis that an ethical hacker conducts for a client.
Some of these hacking techniques include the following:
Scanning ports to find vulnerabilities
With scanning tools likeDetectify, Acunetix, Cobalt.IO, Burp Suite, Wireshark, Qualys Guard, Nessus, OpenVAS, etc.
These tools help analyze the organization's system and find the open port and remedial action as soon as possible.
Scrutinizing patch installation processes
Before updating a new software into your system, analyze whether it is vulnerabilities-free software.
Traffic analysis
It is necessary to analyze the traffic, so perform network traffic analysis and sniffing by employing appropriate tools.
Attempt to avoid
Intrusion detection systems
Honeypots
Firewalls
Intrusion prevention systems
Techniques for testing for Structured Query
Language injection is required to stop malicious hackers from introducing security flaws that expose private information in SQL-based relational databases.
Social engineering strategies are another tool used by ethical hackers to trick users and learn more about a company's computing environment.
Ethical hackers, like black hat hackers, browse through social media or GitHub postings, trick employees into responding to phishing emails or texts, or creep around buildings with a clipboard to target weak points in physical security. However, some social engineering techniques, like physically threatening workers or trying to steal access or information, should not be used by ethical hackers.
You have understood how is hacking done, how to be an ethical hacker and who are ethical hackers.
To become a professional hacker, you can join Ethical Hacking Course In Bangalore, which is a meticulously designed course for the Bangalore-based students who intend to begin their career in the hacking field with placement support.
How to become an ethical hacker
Since there is no set educational standard for ethical hackers, each organisation may set its own standards. An information security, computer science, or even mathematics bachelor's or master's degree is a good starting point for those interested in a career as an ethical hacker.
Those who do not intend to attend college might consider joining the military and pursuing an infosec career. When hiring for infosec roles, many companies view a military background as advantageous, and some require security knowledge.
Studying other technical topics like programming, scripting, networking, and hardware engineering will help you gain a fundamental understanding of the underlying technologies that make the systems ethical hackers more knowledgeable. Additional technical skills required include system administration and software development.
Top Ethical Hacking Certifications to Boost Your Career
Cybersecurity Analyst (CySA+)
Advanced Security Practitioner (CASP+) and PenTest+.
Certified Ethical Hacker (CEH)
Certified Information Systems Auditor(CISA)
Certified Information Security Manager(CISM)
GIAC Security Essentials (GSEC)
Microsoft Technology Associate Security Fundamentals
These are a few certification paths for ethical hackers. So, based on experience, the certification level will increase accordingly.
If you want to become a cybersecurity specialist, you can Cyber Security Course in Bangalore, which will help you better understand hacking, cryptography, computer networks & security, application security, etc.
Different types of hackers
White Hat / Ethical Hackers.
Black Hat Hackers
Gray Hat Hackers
Green Hat Hackers
Blue Hat Hackers
Red Hat Hackers
The above are a few types of hackers, and based on their roles, the hacking mythology and techniques differ.
Now that you have understood what is hacking, how to become an ethical hacker and the top ethical hacking certifications to boost your career. So, to become an ethical hacker, you can join an ethical hacking course and acquire the skills required to become an ethical hacker like IDS, IPS, Firewalls, and Honeypots.